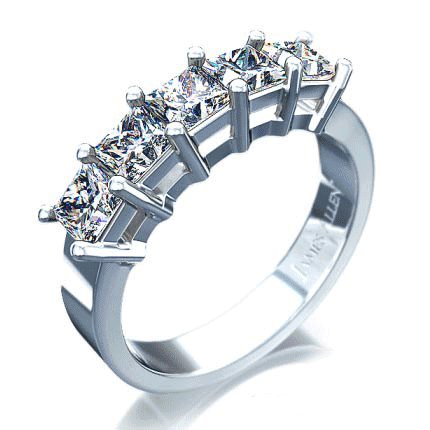 Wedding Ring
Simply Perfect: Why Men Should Consider Wearing A Wedding Ring
It has only been within the last two generations that most grooms have been exchanging wedding bands with their brides. Called "double ring ceremonies" this phenomenon slowly caught on after the Second World War and has been growing ever since.
There were two reasons why a man wouldn't wear a wedding ring: cost and custom. The economic boom of the 1950s increased disposable income, which meant that people had extra cash available to buy treasured items including jewelry. Also, up until that time, many men weren't that interested in jewelry, although a gold tie clip, watch, or money clip often made for an appropriate gift.
As times have changed, so have customs. Jewelry designers, seizing upon the demand for gold, silver, and platinum, as well as precious stones, began to craft "his and her" wedding bands as customer tastes began to shift. By the 1970s, double-ring wedding ceremonies came into vogue and, today, the vast majority of American weddings have bride and groom exchanging rings while they exchange their vows.
Still, some guys are resistant to change thinking that a wedding ring isn't manly enough or that they're just not comfortable with wearing jewelry. Designers understand the difference between men and women, and have crafted matching rings that look feminine on a woman's hand, yet masculine on the man's hand. In addition, jewelers make sure that when a guy tries on a ring that it fits right and looks good. After all, he'll be wearing a wedding band for the rest of his life - he might as well look and feel good wearing it!
Brides are appreciative when the groom heartily agrees to wear a wedding ring. Women value symbolism, seeing wedding bands as an expression of mutual love, a visible commonality uniting husband and wife together.
When selecting a wedding band, you'll be shown rings containing the following precious metals: gold, silver, or platinum. Usually, the metal selected matches the bride's engagement ring, therefore if you chose a white gold or yellow gold ring, then the same metal should be chosen for the wedding rings. If you already own a gold watch, then a yellow gold ring would match that perfectly.
Many wedding bands contain stones, specifically diamonds. Not many men want to wear diamonds, while most women do. Therefore, when choosing rings the style of the band can be the same, while allowing the bride to have hers embedded with diamonds. Most men's wedding bands are wider than the woman's too, therefore there is no mistaking which is the guy's ring and which is the gal's ring.
The most difficult part of shopping for wedding rings is traveling from store to store in search of the right pair. Fortunately, the internet has revolutionized jewelry buying by putting entire stores online. Go ahead and make that one visit to a favorite mall jeweler to look at rings up close and to try some on. Then, go home and log on to your computer with your future bride and visit the James Allen website to preview amazing three dimensional (3D) movies of wedding bands that could be of interest to you both.
Why purchase online? Well, it certainly beats several trips to the mall and traveling through traffic eating up time and gas. In addition, with a lower overhead and, in most cases, no sales tax to pay, you could save a big amount of money by shopping online. These days we're all looking to save and she won't mind as long as the wedding rings match her expectations. By shopping with James Allen you get the highest quality jewelry plus the James Allen guarantee.
Once you've shopped from the comfort and convenience of your own computer, you'll be in a better frame of mind to choose a pair of wedding rings everyone will be happy with. Shopping online is fast and convenient, just the way us guys like to shop in the first place!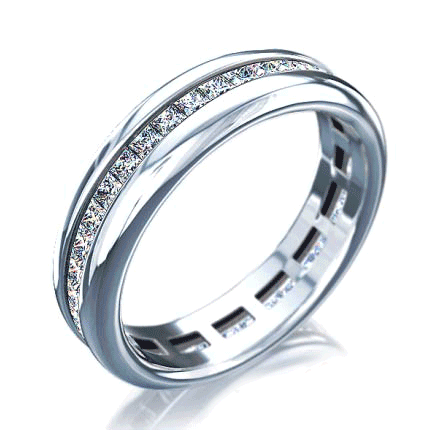 Eternity Ring
Wedding Rings for Guys: How to Choose the One You'll Like
Men often feel like they're playing the supporting role when it comes to their wedding. Much of the attention is focused on the bride who usually does the bulk of the planning and decision-making when it comes to the big day. Sure, you had plenty of input, but as some of your friends will joke, you're just along for the ride!
One area that causes much consternation for men is the wedding band. Until recently, a wedding ring was an option for men, if even given much consideration in the first place. As recently as two generations ago, it was difficult enough for couples to scrape together enough money for just one band for her, never mind that many brides used to forego an engagement ring as having one was considered an extravagance. Those days are long gone!
Getting back to men, we're not always all that thrilled by the choice of rings presented to us. If you're like me, you never wore a ring previously; perhaps not liking a particular style or considering some to be too effeminate. Maybe you've reasoned this: attention should be given to her hands only, not mine!
Fortunately, wedding ring designers are considering what men want when designing a wedding band just for them and I must tell you this: they can resemble the woman's ring without all of the glittery trappings. Her gold, silver, or platinum ring may look like yours, but hers is thinner, embedded with diamonds or other stones, and very feminine. On the other hand yours will be wider and definitely restrained when it comes to its appearance. Leave the glitter to the ladies, but still wear a ring that complements her ring nicely.
Before shopping for a ring, you'll want to consider a few points:
Buy your ring online. Jewelers such as James Allen make shopping a breeze. Avoid the malls and getting dragged from store to store. You can contact James Allen and ask for them to send a ring sizer to you to find out what your size is. James Allen offers gold, silver, and platinum wedding bands for less, usually without state tax, and at prices well below mall stores. When shopping James Allen, you won't feel mauled as would by shopping at the local mall!
Go with comfort. The shape of the ring and its width are two factors that will go a long way in helping you determine if a wedding band is comfortable or not. Soft, rounded edges are preferable to a ring with angular edges. The curve on the inside of the ring should be soft otherwise you'll find the ring annoying and not want to wear it. The best wedding band for a man is the one he can slip on forget is there.
Find your style. The pressure to find a ring that matches the bride's wing often turns guys away from wearing a ring themselves. Though a matching pair can be a nice gesture, you may find that your personal styles are at polar opposites of each other. Better to find rings you both like for yourselves, then to try to agree on a subject that really doesn't matter.
Once you find a ring that you like then plan to wear it all the time. Sure, when you work on the car or do a household project, you'll want to remove it, but keep it on at all times to show your commitment to her. There is something to be said by offering her a visible and tangible reminder of your love for her, something she'll find important and highly significant.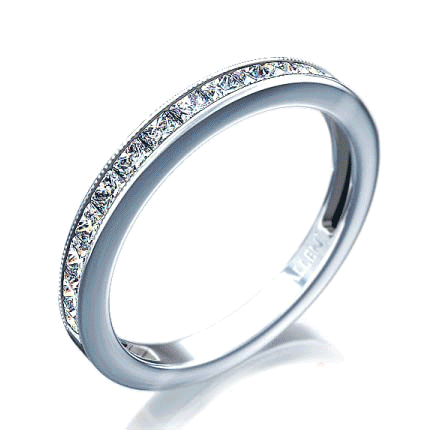 Diamond Wedding Ring
Summer Wedding Ring Planner - Its Never Too Late To Start!
Summer is here and wedding season is in full force. July is a slower month than June, but come August the number of people walking the aisle increases with September proving to be a strong month as well. The warm weather months are certainly ideal for holding a marriage ceremony with guests finding it easier to plan their busy schedules around an important day of celebration.
If your marriage is still a month or two away and you haven't picked out your rings yet, don't fret. Setting a church, synagogue, or mosque date, arranging the hall, catering, putting together the bridal party, honeymoon, and everything else takes time; now that you have that the bulk of the work has passed, you can spend a relaxing, stress-free time choosing wedding bands.
Finding The Perfect Wedding Rings
Every bride has an idea of what ring she wants and, if possible, the ring that he'll be wearing too. If your man is hesitant about wearing a ring, then put aside your plans for matching bands. Though having rings that match can be a wonderful public expression of your love for each other, that shouldn't be a critical point. Many men find rings to be uncomfortable, so if your platinum round pave set diamond wedding ring doesn't come in an equivalent ring for him, don't fret - wear the ring you want and let him pick out the ring that he likes.
Traditional, Contemporary, or Both?
Styles of rings vary from the traditional to the contemporary, with many women choosing to blend both. Fashion designers such as M Danhov understand what brides want and that includes diamonds - lots of them! For example, the Ladies 18k White Gold MY4 by Danhov Diamond Wedding Band represents the ultimate wedding band: four rows of 2.15 carats of pave' set diamonds in white gold. Stunningly elegant, yet amazingly refined, rings from the Danhov Collection are admired and desired worldwide.
Men have many choices too when it comes to wedding bands. The rules have changed to the point where any man, if he likes them, can have a wedding ring that is encrusted in diamonds too. A customized ring can be made that fits his personality and, if your are one lucky woman, match your ring too. One special note: many men prefer comfort-fit rings, those wedding bands which have rounded inner edges to them.
When Ordering Your Rings
On-line ring buying has grown in leaps and bounds because consumers have discovered that they can get the same rings through mail order that they can buy at the local jewelry store. Because retailers like James Allen have a small overhead, the savings are passed on to the customer in the form of lower prices. Moreover, in many cases on-line purchases are delivered state tax free, translating into additional savings for the happy couple. That ring selling for $6000 at the mall jewelry shop could retail for under $5000 on-line!
No matter where you choose to buy your wedding rings, finding a pair that satisfies you both is very important. Your wedding day is a once in a lifetime event, and a day you'll want to cherish forever. Find the right pair of rings and you'll have a forever reminder of your commitment to each other, rings that will satisfy both husband and wife.
Wedding Rings Collection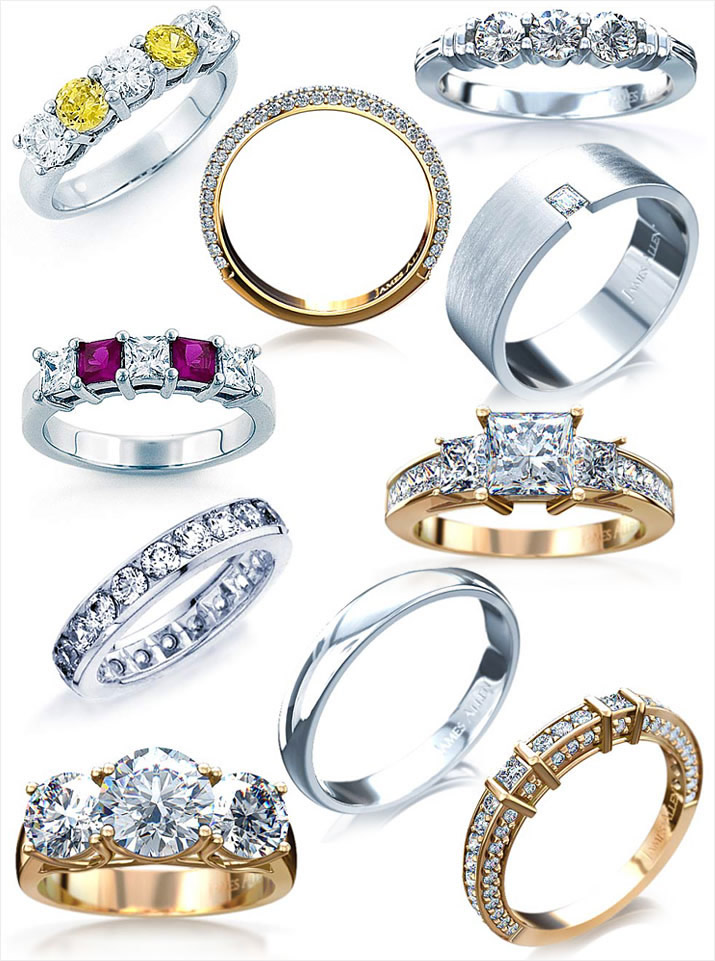 Additional related Articles About Wedding Rings
1. Choosing A Perfect Wedding Ring
http://www.weddingplansecrets.com/pick-wedding-ring.htm
2. Choosing the Perfect Ring
http://weddings.about.com/cs/rings/a/weddingrings.htm
General Articles about Wedding Rings:
3. Wedding Ring Tradition?
http://www.jamesallen.com/news/DiamondArticles/article_419-209.asp
4. Exchanging Diamond Anniversary Rings
http://www.jamesallen.com/news/DiamondArticles/article_419-342.asp
5. Wedding & Anniversary Rings Symbolize Eternal, Lasting Love..
http://loveloupe.jamesallen.com/